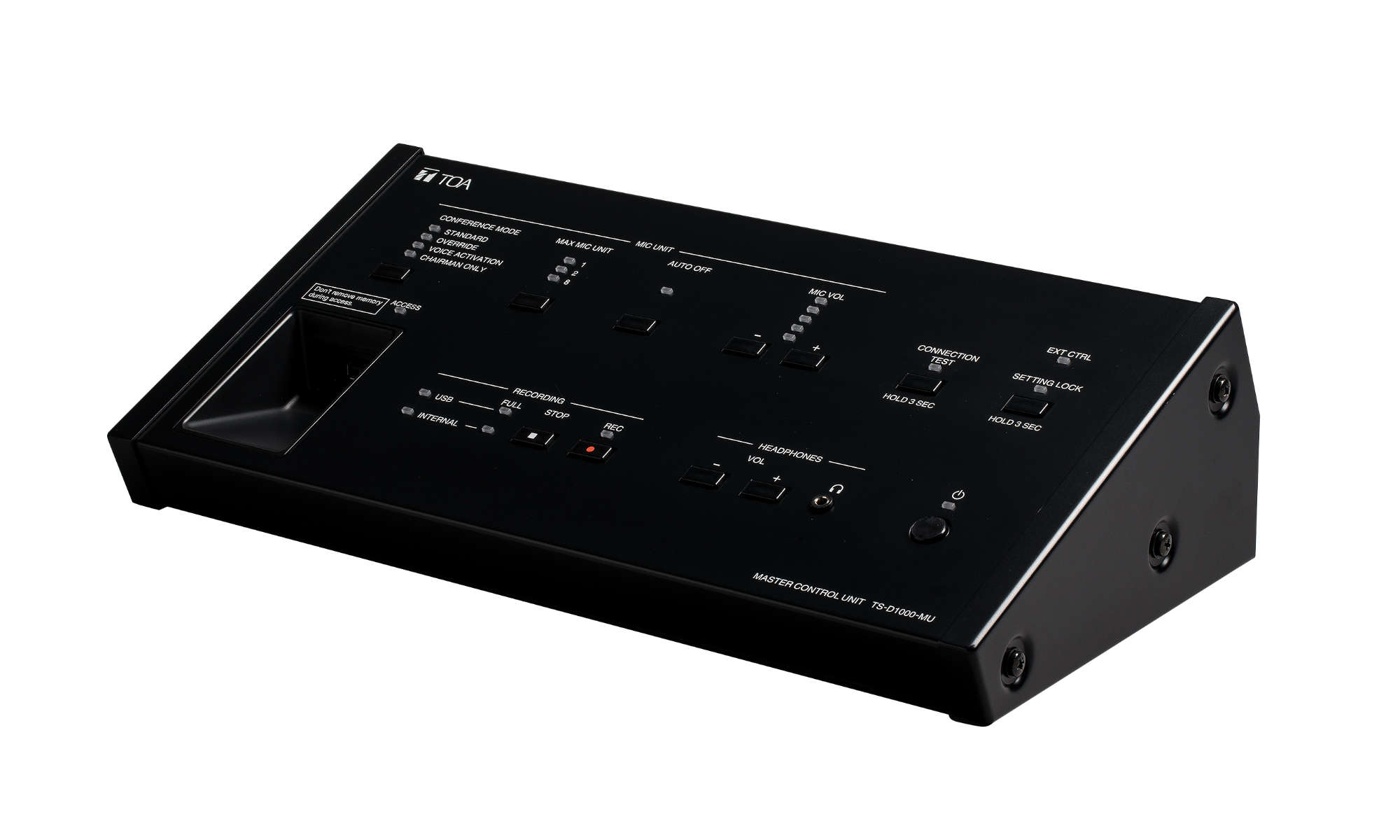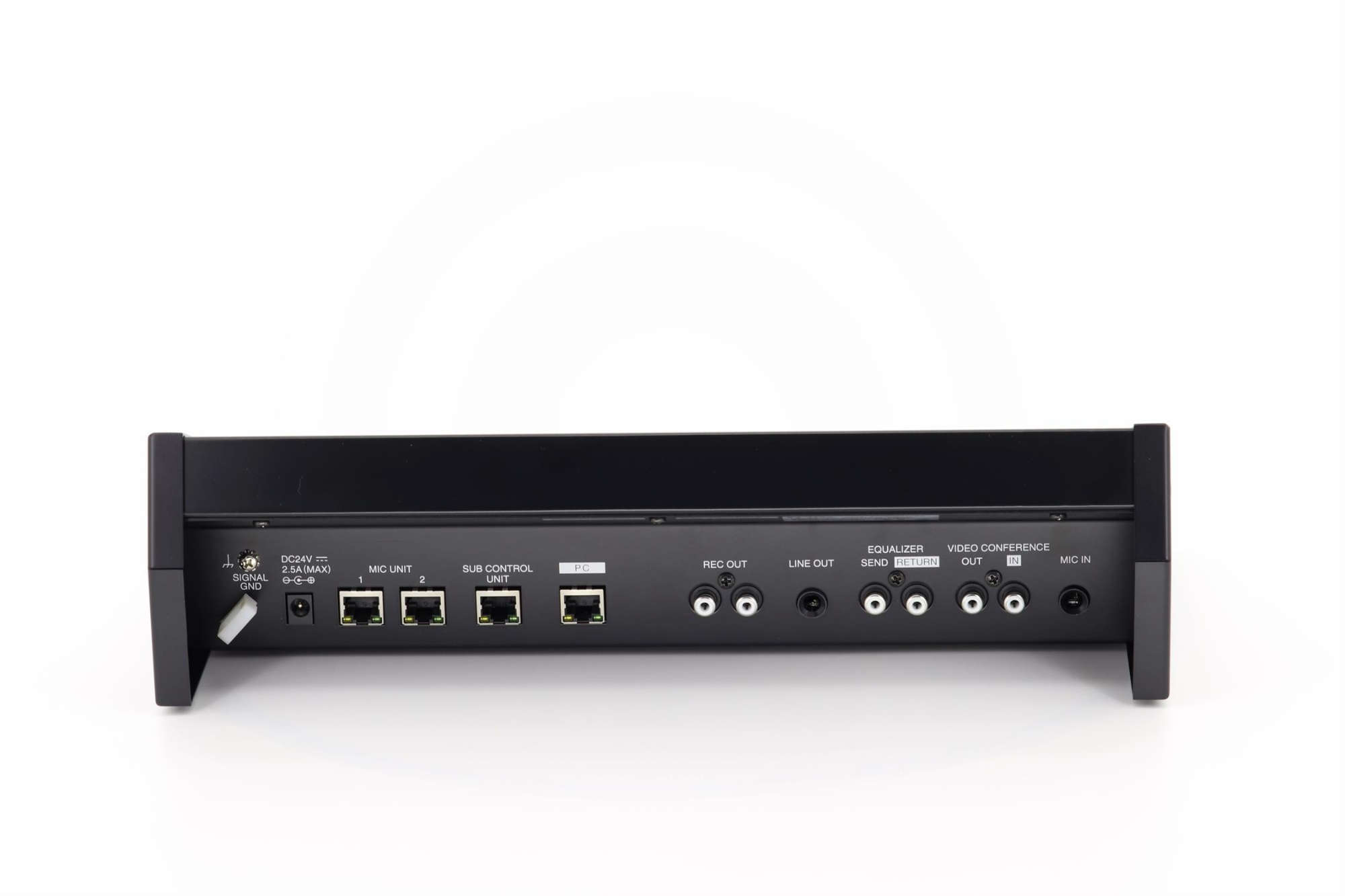 Master Control Unit
TS-D1000-MU
The TS-D1000-MU Master control unit for TOA's Digital conference system is designed to be used by way of simple connections to its Chairman and Delegate units using CAT5e STP LAN cables. The Master control unit is also equipped with a recording function, PC control (*1), and one-touch connection confirmation capability. Up to 32 Chairman/Delegate units can be connected in a simple daisy chain configuration. However, for further expansion, up to 5 TS-D1000-SU Sub control units can be added to the system, making it possible to connect as many as 246 Chairman/Delegate units in one fully integrated conference system. The TS-D1000-MU is also equipped with FBS (Feedback Suppression), enabling effective control of acoustic feedback. In addition the unit employs an MP3 recorder that makes it possible to record all conference contents to either a connected USB memory drive or internal memory. With the use of an optional rack mounting bracket, it can be mounted in an EIA Standard equipment rack (4 unit size).
(*1) Relevant control software is supplied on a custom-made basis.
Supports up to 32 conference units
Mic In, AUX In, Line Out, Rec Out, Headphone monitor out, EQ In/Out
Function setting : Number of open microphones, Auto mic-off function, Microphone priority selector
Rack-mountable with optional MB-TS920 bracket
Power Source
100 - 240 V AC, 50/60 Hz (use of the supplied AC adapter)
Power Consumption
60 W or less
Frequency Response
100 Hz - 13 kHz
Signal to Noise Ratio
80 dB or more (A-weighted)
Audio Transmission System
Time division multiplexing (TDM), 10 channels
16-bit PCM, 32 kHz sampling frequency
MIC Input
-54 dB (*2), 600 Ω, unbalance, Ø6.3 mm phone jack (2P)
Output
LINE: -10 dB (*2), 10 kΩ, unbalance, Ø6.3 mm phone jack (2P)
REC: -10 dB (*2), 10 kΩ, unbalance, RCA pin jack, monaural
HEADPHONES: Ø3.5 mm mini jack, monaural
Equalizer Input/Output Terminal
-10 dB (*2), 10 kΩ, unbalance, RCA pin jack
Video Conference System Input/Output Terminal
-10 dB (*2), 10 kΩ, unbalance, RCA pin jack
LED Indicator
Power indicator, Conference mode indicator, Number of open microphones indicators, Microphone auto off indicator, Monitor speaker of conference units volume indicators, Connection test indicator, External control indicator, Setting lock indicator, Recording status indicator, USB Access status indicator, USB memory status indicator, Internal memory status indicator, Remaining USB memory capacity warning indicator, Remaining internal memory capacity warning indicator, LINK/ACT indicator, 10BASE-T/100BASE-TX indicator
Number of Connectable Conference Units
32 units
Number of Connectable Sub Control Units
5 units
Maximum Cable Length
50 m (164.04 ft) (between Master control unit and terminal Chairman/Delegate unit at end of daisy chain) (*3)
1 m (3.28 ft) (between Master control unit and Sub control units)
(Use the cable supplied with the Sub control unit.)
Maximum Number of Open Microphones
2 chairman units, 8 delegate units
Chairman/Delegate Units Terminal
RJ45 connector x2
Master/Sub Control Units Terminal
RJ45 connector
Function Key
Conference mode selector key: Standard/Override/Voice activation/Chairman Only
Number of open microphones selector key: 1/2/8
Microphone auto off setting key: ON/OFF
Monitor speaker of conference units volume setting key: -,+
Setting lock key: ON/OFF
Headphone volume setting key: -,+
Operation Key
Connection test, Rec start, Rec stop
Recording Function
Recordings can be made to a USB memory device (*4) or the internal memory.
Recording format: MP3 (MPEG-1 Audio Layer-3), monaural
Sampling frequency: 32 kHz, Bit rate: 128 kbps
Network I/F
10BASE-T/100BASE-TX (Automatic-Negotiation)
Network Protocol
TCP, HTTP, DHCP, ARP (APIPA), UDP (mDNS)
Network Connector
RJ45 connector
Operating Temperature
0 °C to +40 °C (32 °F to 104 °F)
Operating Humidity
90 %RH or less (no condensation)
Finish
Panel: Surface-treated steel plate, black, 30 % gloss, paint
Included Accessories
AC adapter (Cord length: 1.8 m (5.91 ft) DC cord, and 2 m (6.56 ft) detachable AC cord) …1
Optional Accessories
Rack mounting bracket: MB-TS920
(*2) 0 dB = 1 V
(*3) Cable lengths can be extended to a maximum of 100 m (328.08 ft) with the use of the Extension Unit.
(*4) A USB 2.0-compatible FAT32-formatted flash memory device of up to 32 GB in capacity can be used. There may be cases in which a USB flash drive cannot be used with the TS-D1000-MU, depending on the drive's attributes or recording conditions.
Please download Datasheet to access full specifications.
The master control unit shall configure and control delegate and chairman units via standard CAT5e STP LAN cable and by a simple daisy chain topology shall be able to control up to 32 chairman and delegate units. It shall be possible to extend the number of delegate/chairman units to 246 by utilizing sub-control units, allowing full-integrated conference facilities.
The system shall be easy to configure allowing the user quick and easy set up and disassembly.
The master control unit shall employ an automatic FBS (feedback suppressor) function that will systematically eliminate acoustic feedback by a series of notch filters allowing optimum performance at all times.
There shall be a NOM (Number of Open Microphones) facility allowing up to 2 chairmen and 8 delegates to participate simultaneously and a Mic auto-off function that will disable the microphone after 30 seconds if no signal is present. There also shall be an energy-saving function that will switch off the system after 2 hours of inactivity.
The master control unit shall have recording facilities that will allow recordings to be made in MP3 format with a sampling frequency of 32 kHz with a 128 kbps bit rate and stored on an internal 1GB hard drive or an additional USB drive, there shall also be two mono RCA recording outputs. The master control unit shall also have PC control to facilitate custom control software as well as integration with other devices such as cameras.
The master control unit shall employ a push and hold test function button that will confirm connectivity is correct and for additional monitoring purposes there shall be
LED indication for the following: power, conference mode, number of open microphones, microphone auto-off, speaker monitor, connection test, external control, setting lock, recording status, USB access status, USB memory status, internal memory status, remaining USB memory capacity warning, internal memory capacity warning, LINK/ACT and 10BASE-T/100BASE-TX indicators. The master control unit shall also provide RCA sockets to facilitate an external graphic equalizer, videoconference, a line output jack socket for external amplifier and a headphone mini jack socket.
Power requirement shall be 100-240 VAC, 50/60 Hz with a 60 W or less power consumption using the provided AC Power Supply.
The master unit shall have the option of being a stand-alone unit or rack-mountable using optional brackets and shall use four EIA component rack spaces. Dimensions shall be 361 (W) x 100.4 (H) x 179.8 (D) mm (14.21" x 3.95" x 7.08") weighing 2.2 kg (4.85 lbs.) and finished in treated steel plate with black metallic paint.
Optional extras: TS-D1000-SU Sub control unit, TS-D1000-EX Extension unit that will allow the increase in cable lengths, MB-TS920 Rack mounting brackets manufactured by TOA Corporation
Manufacturer: TOA Corporation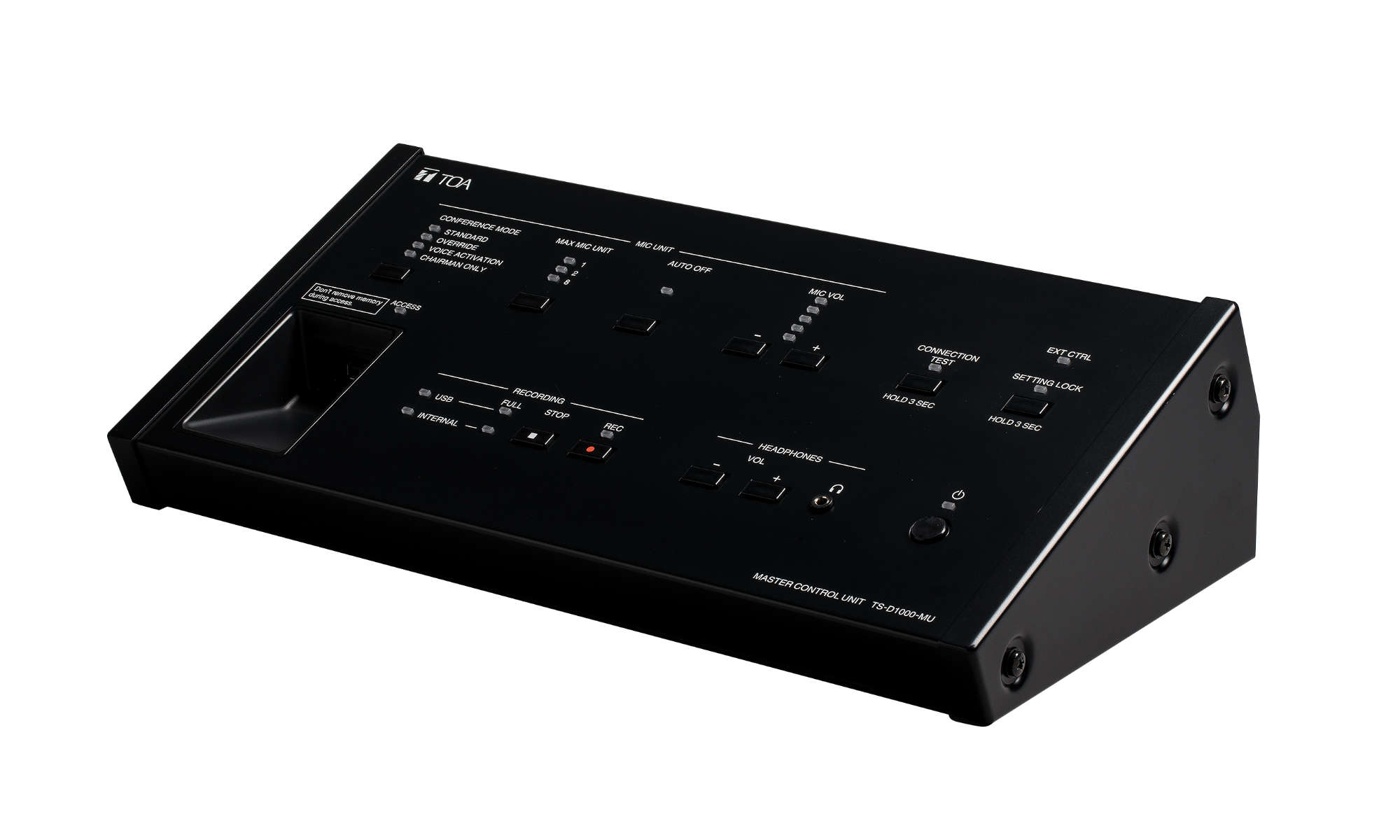 Need other technical materials like software? Please visit Download Center.
*Sign-in or membership registration is required.